WELCOME TO CROSSWINDS MOBILE HOME PARK ACTIVITIES
All our facilities are wheel chair accessible.
 There are a variety of activities throughout the Park which are open to everyone. We welcome and invite you to join all or some of the following activities:
 WARM WATER POOL
 WARM WATER POOL: As you are aware, we  boast an amazing heated pool located in the middle of the Park between 4th street and 5th street.
 The Pool is located next to, what we refer to as our Small Hall, where other weekly activities such as Billiards, Poker and Bridge also take place. Pool hours are 8:00 am till sundown. No nighttime swimming.
 BOCCE BALL – SHUFFLE COURTS – HORSE SHOE PITS
These are all situated at the front of our park near the Main Hall (also called the Clubhouse). These activities are available for both your individual recreational pleasure and/or can be joined as a group activity. Look for the name of a contact person in the Chronicle Newsletter for more information on joining in to play with a group.
 BOCCE BALL
Bocce Ball Season:
Wednesday 2:00 pm    Bocce
 SHUFFLEBOARD CLUB
(Open to everyone at Crosswinds Park)
IT'S EASY – IT'S FUN – GOOD WAY TO EXERCISE
Shuffleboard is for everyone – No experience necessary
$10 yearly dues: amount subject to change on a yearly basis
Fun while exercising
Make new friends
Free lessons on Mondays at 10:00 am
Monthly Chicken Shoot
Annual picnic
Wine and cheese party
Shuffleboard Season:
Monday 10:00am         Shuffle (instruction and practice lessons)
Tuesday 1:00 pm         Horse Collar / Shuffle $1.00 per person
Thursday 1:00 pm        Shuffle Doubles
Pancake breakfast at the Clubhouse is hosted by the Shuffleboard Club – 3rd Sat. of each month
Cost $3.00 Bring your own plate/cup/utensils
BILLIARDS
BILLIARDS SEASON:
Monday  6:30 pm  Billiards (Small Hall)
Thursday 6:30 pm  (Small Hall)
  INTERNET SERVICE
Our main hall is equipped with internet service for your computer needs or pleasure.  It may be accessed from either the porch or inside the building. There is a password needed which is posted on the bulletin board just inside the Main Hall.
 LIBRARY
Adjoining the Main Hall left entrance is a well-stocked library for your reading pleasure and is open from 8 a.m. to 7p.m..
Feel free to select your books and all we ask is that you return them when you're finished.   Donations of books are very much appreciated.
  BIRD GROUPS
The residents of the Park have found that with the help of many hands the work is always lighter. With this in mind, we have formed monthly groups who organize and manage our social activities. These groups are called Bird Groups, named after different birds i.e. Cardinals, etc.
These groups organize our monthly dinners, dances and other forms of entertainment depending on the month or season. We encourage you to join a Bird Group at your earliest opportunity. You will be most welcome, and it is an easy way to meet other residents in the Park. You can join a Bird Group as an individual or as a couple.   The Leaders of the Bird Groups are listed on our monthly Newsletter. So choose a Bird Group where you know someone, or join one and make some new friends
 In addition: There is a Special Events Committee who organizes our larger events throughout the year and our annual spring celebration.
  MONTHLY SOCIAL
Meet and Greet: Coffee morning is held once a month (usually the first Tuesday) where you can enjoy coffee/tea and a donut for a $1.00.  All tickets for up-coming events are usually sold at this time – in advance of the event.  Bring your own coffee mug to the Main Hall at 9:30 am
 The Bird Group for the month may organize different get-togethers during the month – a dinner – lunch – tea – etc.
We request that for any dinners you bring your own dinnerware along with flatware (unless otherwise stated).  This is to save our land fill sites and to cut internal costs.  All events are B.Y.O.B..
RECYCLE CANS AND PAPERS
We have a recyclable program for our beer and pop cans.  
The cans are collected at each event in the Main Hall.
Also for your personal disposal of aluminum cans there is a recycle bin on 5th street. It is in the small garage next to the laundry hanging yard where you will see a flap marked for dropping cans.
Please remove the tabs and rinse the cans. Remember No garbage, No bottles and No food cans.   Only beer and pop cans.
 Newspapers are also collected and are part our recycling program.  The paper recycling bin is located at the same area as the can recycling.  
The proceeds from these recycled items are given to the Activity Association for the benefit of all the residents.
 Volunteers are always needed for the crushing of cans and Jim Hope at lot 303 will assist you in getting started.
  LAUNDRY
We provide a Laundry area with (coin operated) indoor washer and drying facilities and outdoor clothes lines.  This is open from 8a.m. to 8 p.m. daily and is located half way down between 4th & 5th streets.
  Enclosed you will find write ups about other individual activities. We hope these will be helpful to you. Be sure to consult the monthly Newsletter which explains additional activities' details and where you'll find the Bird Group contacts. Read the monthly Chronicle Newsletter which lists the names and phone numbers of the individual Crosswinds activities and their contacts. The monthly Chronicle Newsletter also contains a variety of interesting things about our Park and the people who live here along with various other little tidbits.
BINGO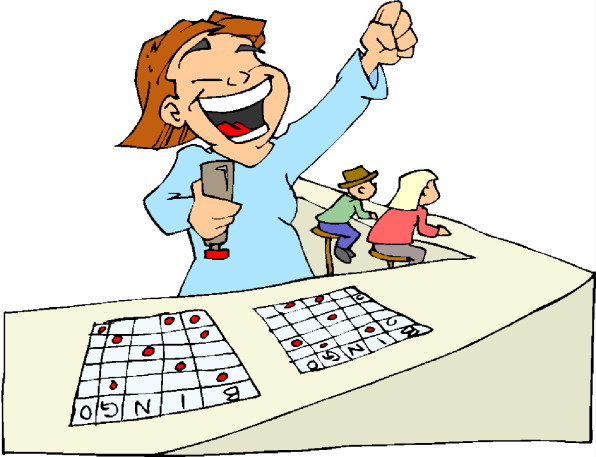 Everybody loves to play BINGO!!!  Every Tuesday – Main Hall – 6:45 pm
Paper Sheets – Bring your own Ink Markers.
We play regular Bingo Plus Specials
All money paid out to players each night.
Bingo Season: 
Tuesday 6:45 PM         Bingo (Tues. only)
CROSSWINDS HAS BRIDGE FOR EVERYONE!!
Keeps your mind sharp
Experience not necessary – lessons provided
Everyone invited – you don't need a partner
Bridge Schedule – We Play in the Small Hall
Lessons:  Monday – 10:00 am (free) for beginners
Practice:  Wednesday – 10:00 am (free)
Game night – Wednesday – 6:45 pm – $1.00
If you've never played before and you want to learn – WELCOME.  Schedule a private lesson for an introduction to bridge with a private lesson before joining the class.  You will be welcomed – we play for fun.
CRIBBAGE
Thursday evenings 7PM in the big hall.  Everyone invited.  No Partner needed.
Friendly mixed group.  Good old fashioned fun.
Small charge to play (all money is paid out as prized)
Cribbage Season: 
Thursday 7:00 pm       Cribbage
POKER
POKER SEASON:
Sunday  6:30 pm  Wild Cards Poker (Small Hall)
Tuesday 6:00 pm  Poker (Small Hall)
Friday 6:00 pm  Poker (Small Hall)
Saturday  6:30 pm  Wild Cards Poker (Small Hall)
EUCHRE
Every Monday Evening at 7:00 pm there is a lively game of Euchre at the Large Hall.
Small charge each evening which is used as Prize money
We give cash prizes -1st – 2nd – 3rd
Prize given with fun people
No partner necessary
Euchre Season: 
Monday 7:00 pm         Euchre
CRAFTS
Sit and chat with your friends while you do crafts.
Or just sit and chat and have  cup of tea.
Bring along whatever project you are working on
Or come see what others are working on
Share patterns – Learn new ideas
Meet new people in the Park
No cost – no obligation
We give assistance and lend supplies
Come spend an afternoon with us and see what's to like about CRAFTS
Wednesdays at 1:00 pm in the large hall
 DARTS
Main Hall – Sign Ups in January
FUN – FUN – FUN – and more FUN
No past experience necessary
Dart Season:
Wednesdays – 7PM
 EXERCISE CLASSES DAILY
Come out and start your day with a good exercise
Monday and Friday  ( Free – main clubhouse)
8:00 am          Walk away pounds
                       Get all the heart-healthy benefits of this walking program, lower
                       cholesterol and increase stamina, while building strength and
                       endurance
Tuesday and Thursday  (Free – main clubhouse)
8:00 am           Our oldest and well attended exercise for decades:  A whole body
                        workout and floor exercise.  A great way to start a new day.
Wednesday   (Free – main clubhouse)
8:30 am           Low impact Workout (Jane Fonda) a strengths-training workout that
                        will give you a toned and sculpted body.
LINE DANCING.
A most welcome invitation for any residents who are interested in line dancing.
We dance Thursday morning I the Large Hall.  We begin at 9am with introductory Line Dancing, going over basic steps and learning very basic line dances.  Regular line dancing runs from 9:30 am to 10:30 am.
Our line dances are not only country and western, but we also line dance to crooners Michael Buble',  Frank Sinatra and reggae group T-Spoon.  This past year we learned a Celtic dance and an Irish jig.  Previous dancing experience definitely not necessary.  Just join us for some fun.
Line Dancing Season: 
Thursday 9:00 am       Line dancing (beginners)
Thursday 9:30 am       Line dancing (regular)
 YOGA
Yoga is said to be for the purpose of uniting the mind, body and spirit.  this union can be achieved through meditation, but it is necessary to prepare the body for meditation by stretching and building strength.  This is the physical practice of yoga.
Many people think hat the physical practice of yoga is just stretching but while stretching is certainly involved, it is really about creating balance in the body through developing both strength and flexibility.  this is done through the performance of poses and postures, each of which has specific physical benefits.
A regular yoga practice has been shown to provide a verity of health benefits including preventing heart disease, managing weight, improving balance, relieving pain and easing anxiety.
Anyone can start a yoga practice, even if you don't feel like you are very flexible or very strong.  These things wild improve the longer you practice.
Our yoga instructor will be teaching gentle, restorative yoga classes Mondays and Fridays from 9AM-10AM in the main club house.
Please arrive 10 minutes prior to class start time and bring a mat if you have one.  There is a small charge for the class.
See the contact list for the name of the contact.
Yoga Season:
Monday 9:00 am              Yoga classes $5.00 per person
Friday 9:00 am                  Yoga classes $5.00 per person
 GOLF
Ladies or men's golf League
They play on Mondays and Thursdays, currently at the Tides Golf Course.  Carpooling is available.  We have a great time, skill is not mandatory.
Come join us for a whole bunch of comradeship and lots of fun.  Always room for more.
See contact persons for either ladies or men's in our chronicle or list enclosed
OTHER CROSSWINDS ACTIVITIES
We have several other various activities in our Community.  Please feel free to join in.  the following have no sign-up and are open to both men and women.  See the Monthly Crosswinds Bulletin for exact times and locations.
Billiards
Poker
Special Events
Monthly Pancake Breakfasts
Annual Bazaar/Yard Sale
Dancers
Dinners
CHURCH
CHURCH SCHEDULE:
Sunday  10:00 am  Church in the large hall
Thursday 2:00 pm Choir Practice
PINELLAS TRAIL
Go for a bike ride or walk along the Pinellas Trail – closest entry to the trail is right outside the entrance to our park – al the corner of Park street and Tyrone Blvd.
TOP 10 HEALTH BENEFITS OF WALKING
Its a gentle, low-impact form  of exercise that's easy, free and suitable for people of all ages and most abilities. Here's why it's good for you.
It strengthens your heart
It lowers disease risk
It keeps weight in check
It can help prevent dementia
…and osteoporosis, too
It tones your legs, bum – and tum
Let's not forget your arms
It boosts your vitamin D levels (if you walk outside)
It gives you energy
It makes you happy
MAP OF TRAIL